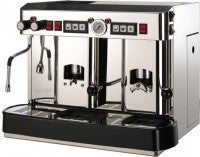 La Piccola Cecilia 2 Group Auto
Regular price $5,995.00 Sale
The Cecilia 2 group automatic E.S.E. pod takes the guess work out of making espresso. Speed, cleanliness, and easy maintenance means faster coffees and more turnover. The 2 group Cecilia has seperate heat exchangers for the coffee groups which means that the coffee is always at a constant 92 degrees. It has a seperate boiler for the steam which makes it impossible for the operator to burn the coffee. This 2 group is idealy suited for offices, restaurants, hotels, clubs etc. Our customers are amazed that they can serve coffee this good in their business.
This unit is also available for rental from $45.00 plus GST per week.(conditions apply)
Your company might even qualify for a FREE loan machine, contact us to find out how.
No Mess
Fast
Easy maintenance
Volumetric coffee groups
Commercial water tap
Steam wand
Automatic milk frother (optional)
9 Lt water tank
Dimensions Height 42 cm - Width 52,5 cm - Depth 45 cm
Plumbed in water kit available for an additional $350.00 plus GST
Can be fitted with single shot or double shot group heads to your specification 
Voltage 230 V 15 amp